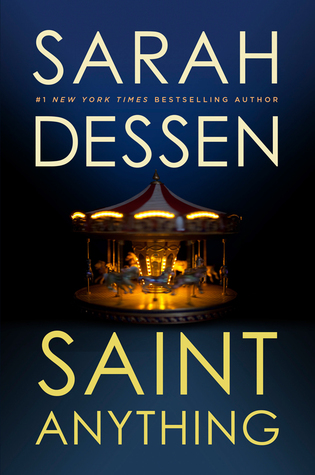 Peyton, Sydney's charismatic older brother, has always been the star of the family, receiving the lion's share of their parents' attention and—lately—concern. When Peyton's increasingly reckless behavior culminates in an accident, a drunk driving conviction, and a jail sentence, Sydney is cast adrift, searching for her place in the family and the world. When everyone else is so worried about Peyton, is she the only one concerned about the victim of the accident?
Enter the Chathams, a warm, chaotic family who run a pizza parlor, play bluegrass on weekends, and pitch in to care for their mother, who has multiple sclerosis. Here Sydney experiences unquestioning acceptance. And here she meets Mac, gentle, watchful, and protective, who makes Sydney feel seen, really seen, for the first time.
Hand me a Sarah Dessen book, and it's not a case of will I like it, it's a case of how much will I like it. I've read all but one of her books (really need to get around to reading the last one), and so far there hasn't been one single book that I didn't like.
This one is no exception. I was hooked from the start, and it didn't let go of me until I finished the final word. So while answering the question of how much will I like it. In the case of Saint Anything, I would have to say that I like it better than any of her previous books.
That's right. This book has now become my new favourite Sarah Dessen novel. Here's why.
Saint Anything follows the trend of Sarah Dessen's previous novels. Taking you through a story involving family drama, friendships, and relationships. Once again the balance between these three aspects, was done perfectly, to keep you wanting to read more.
However, the reason this book edged it's way to my favourite of all of her books, was simply the characters. Sarah Dessen writes amazing characters, but this book in particular had some truly incredible ones.
Sydney was wonderful, you felt for her and got entirely pulled into her story and feelings. Mac was incredible. Layla wonderfully quirky. All of her new friends brought something interesting to the mix, and even Ames, though not a nice character, was a really well written character.
The drama with her brother, was really interesting as well. The emotions behind what was happening, was handled so well.
Overall, this is just a truly fantastic read. I would highly recommend this book, and the author in general. Definitely one of my favourites.
10/10