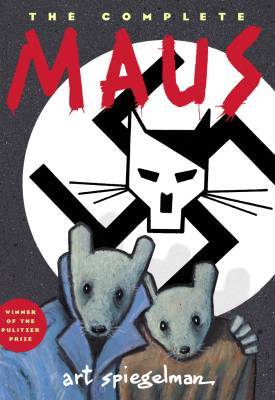 The complete story of Vladek Spiegelman and his wife, living and surviving in Hitler's Europe. By addressing the horror of the Holocaust through cartoons, the author captures the everyday reality of fear and is able to explore the guilt, relief and extraordinary sensation of survival - and how the children of survivors are in their own way affected by the trials of their parents. A contemporary classic of immeasurable significance.
Expect to cry, and expect to laugh. Maus surprised me so much. Not because it was sad, because I knew this would be a book that would make me cry. Not because I loved it so much, because I went into it with high expectations, based on the concept, and what I'd heard about this book.
The reason it surprised me, is because I really didn't expect to laugh. Not when this book deals with such a heartbreaking and horrific time.
The beauty of this book, is that there was a wonderful balance of light moments in the modern day, and dark, deeply emotional moments from the story of the war.
The story told here, is an incredibly touching one, and it was written with great sensitivity. It captivated me from start to finish.
This is one of those books that I'll be going back to again and again, because there was just nothing that I didn't like about it.