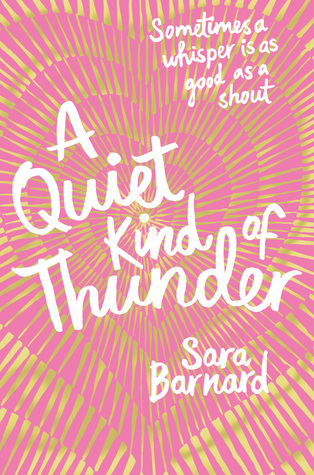 Steffi doesn't talk, but she has so much to say.
Rhys can't hear, but he can listen.
Their love isn't a lightning strike, it's the rumbling roll of thunder.
Steffi has been a selective mute for most of her life - she's been silent for so long that she feels completely invisible. But Rhys, the new boy at school, sees her. He's deaf, and her knowledge of basic sign language means that she's assigned to look after him. To Rhys, it doesn't matter that Steffi doesn't talk, and as they find ways to communicate, Steffi finds that she does have a voice, and that she's falling in love with the one person who makes her feel brave enough to use it.
From the bestselling author of Beautiful Broken Things comes a love story about the times when a whisper is as good as a shout.
Review
*Provided by Netgalley for an honest review*
Ok. Here's the thing. This is the second book I've read by this author and the same thing happened again. I see so much hype about the book, five-star ratings all around and a plot that sounds right up my alley. Then I get a copy and start reading and I feel disappointed. While the story was good and the characters were good, I found something lacking. The emotional element. The whole way through this book, I kept wanting to feel something more, since the two main characters have so much going on for them, I wanted to feel a bit more invested in the world. As it was, I found it a little hard to connect to Steffi and see her as suffering from all the things it's mentioned she suffers from, one of these being selective mutism, when it never played a huge role. Through most of the novel, she seems to be talking to people, even if it is only short conversations and she's seen as being stressed over it, she does still talk. For me, I would have found it better to buy into this world of hers, if it had started out with her being much worse off and slowly getting more comfortable.
While the relationship between Steffi and Rhys is sweet, I couldn't get over one thing. This may just be something that's in the advanced copy, but the formatting of the book was difficult for me. I know that they were mostly communicating via sign language, but there was no separation. One line of narrative would run into another with no quotation marks or any other form of distinguishing between the speakers. This made it really hard at times to work out who exactly was talking.
Overall, this was an ok book for me. It was a sweet read, the plot and characters were good, but it didn't get me hooked and unfortunately, for me, didn't reach the hype that I'd seen surrounding it.
Rating
⭐⭐⭐