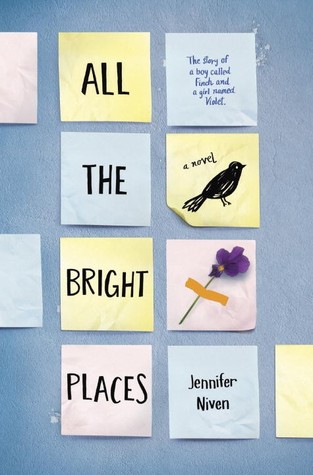 Theodore Finch is fascinated by death, and he constantly thinks of ways he might kill himself. But each time, something good, no matter how small, stops him.
Violet Markey lives for the future, counting the days until graduation, when she can escape her Indiana town and her aching grief in the wake of her sister's recent death.
When Finch and Violet meet on the ledge of the bell tower at school, it's unclear who saves whom. And when they pair up on a project to discover the 'natural wonders' of their state, both Finch and Violet make more important discoveries: It's only with Violet that Finch can be himself - a weird, funny, live-out-loud guy who's not such a freak after all. And it's only with Finch that Violet can forget to count away the days and start living them. But as Violet's world grows, Finch's begins to shrink.
Wow. Wow. WOW. I mean it. Wow.
It's been a while since I read this. I fell behind on my reviews, and so even though I read this back in January, I'm only just getting around to writing the review. I'm glad that I had time to reflect on this book, though. Because sometimes my initial reactions to a book, don't hold up, and when I look back at a review, I think maybe I was a little too gushing over it, or a little too harsh. However, time has passed, and I've been thinking about what to say in this review and the word that pops into my head when I think of this book, is wow.
Beautiful. Emotional. Engaging. Engrossing. Stunning. Breathtaking.
All of those words are also ideal to describe this book. If you've read some of my reviews before, then you'll know that I tend to love books that have the ability to make me laugh and cry. I love the books that grab me and pull me in, and have a lot of emotions written into them.
For a long time, The Fault in Our Stars by John Green has been my favorite book, and when I read Second Chance Summer by Morgan Matson, I told my sister, as a way of describing what I thought of it, that it was on par with The Fault in Our Stars. When I finished this book and she asked me what I thought, I said, this book just beat The Fault in Our Stars.
From start to finish this book was a page turner. It had me holding my breath, sitting on the edge of my seat. Crying until I had to stop reading because I couldn't see the page. It made me smile and laugh, and want more. It made me want to read it again the moment I put it down.
The story is beautifully and emotionally written. The characters pull you into their world because they feel so real. The pacing was spot on. There wasn't one scene that I felt was slow, or uninteresting. Everything had its place and everything fit perfectly with everything else.
If you haven't read this book yet, I cannot recommend it highly enough.