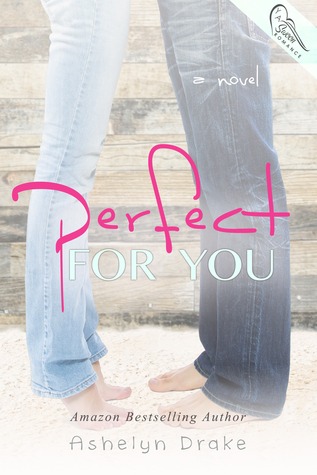 Seventeen-year-old Meg Flannigan isn't very self-confident, but what girl would be after her sophomore-year boyfriend dumped her by making out with another girl in front of her locker?
Now a senior, Meg catches the eye of not one, but two gorgeous guys at school. Sounds good, right? What girl wouldn't want to be in Meg's shoes? One cute boy happens to be her boyfriend, and the other? Well, he wants to be. And Meg?

She't

torn between Ash, the boy she's been with for nearly five months, and Noah who is pretty irresistible.
But Meg is playing with fire. Pitting two boys against one another, even if she doesn't intend to, could end badly if she isn't careful. PERFECT FOR YOU is a teen romance from bestselling author Ashelyn Drake, where one girl will risk everything to find her perfect match.
*Note: This book was given to me in exchange for an honest review*
This book had a synopsis of a cute YA contemporary, and honestly, I was pleased I got the chance to read it as part of the blog tour. I went into it with high hopes, and unfortunately these hopes weren't exactly met.
This wasn't a bad book, in fact, I enjoyed a lot of it, and got through it pretty fast because it was a light easy going book.
I had two main issues with the book though, one is that I felt it was a little repetitive. The same situation seemed to happen over and over again, and that got a little tired.
The second, is probably the most significant of the issues I had. That issue is that Meg, for me, was not a likable character. I wanted to like her. I wanted to see the conflict in her. I wanted to sympathize with her past and see her as a good character. I just couldn't.
I wound up feeling annoyed more than once by her actions, and that doesn't make for a great reading experience.
Now onto some high points. I thought that Noah was a fantastic character. He was so well written, and I really loved how he was portrayed. What I liked a lot about his character, is that I thought he'd turn out to be one way but he surprised me. All in all he's a brilliant character, and for me, he really carried the book.
There were some fantastic scenes between him and Meg, and

honestly I

wish there had been more of them.
Overall, this is a decent book. Noah's character is definitely the highlight, and I'd say it's worth a read if you like light contemporary YA.
Ashelyn

Drake is a New Adult and Young Adult romance author. While it's rare for her not to have either a book in hand or her fingers flying across a laptop, she also enjoys spending time with her family. She believes you are never too old to enjoy a good swing set and there's never a bad time for some dark chocolate. She is represented by Sarah Negovetich of Corvisiero Literary Agency.
http://ashelyndrake.wordpress.com/
http://www.goodreads.com/author/show/7075461.Ashelyn_Drake
https://twitter.com/AshelynDrake
https://www.facebook.com/AshelynDrake