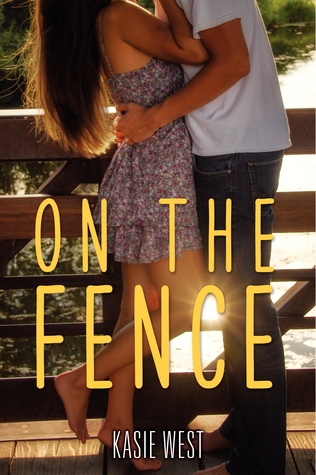 For sixteen-year-old Charlotte Reynolds,
aka

Charlie, being raised by a single dad and three older brothers has its perks. She can outrun, outscore, and outwit every boy she knows—including her longtime neighbor and honorary fourth brother, Braden. But when it comes to being a girl, Charlie doesn't know the first thing about anything. So when she starts working at

chichi boutique

to pay off a speeding ticket, she finds herself in a strange new world of makeup, lacy skirts, and BeDazzlers. Even stranger, she's spending time with a boy who has never seen her tear it up in a pickup game.
To cope with the stress of faking her way through this new reality, Charlie seeks late-night refuge in her backyard, talking out her problems with Braden by the fence that separates them. But

their

Fence Chats can't solve Charlie's biggest problem: she's falling for Braden. Hard. She knows what it means to go for the win, but if spilling her secret means losing him for good, the stakes just got too high.
The first thing I want to say about this book is that the characters were amazing. I really felt like each one of them was developed really well, and the main character of Charlie was fantastic.
I liked the way Charlie was struggling with these two parts of herself. The

tomboy she

'd always been, and the discovery of these more girly things. I thought that the balance was good, and her reactions to things were spot on.
I loved the interaction between Charlie and her brothers. It was done in such a way that you could really see how much they were protecting her, and yet at the same time, not allowing her to break free from the tomboy world that she grew up in, and making her feel as if she had to be a certain way.
I liked that there was some family drama as well with her mother and things in the past. It was a good addition to the story, and kept me interested. It also ended in a way that was different to how I was imagining it would, which is always a nice surprise.
The standout in this novel

though was

the romance. I absolutely adored Charlie and Branden, their late night fence chats were incredible. The subtle growth of their feelings was written perfectly, and the way they acted together while around her brothers was sweet and well handled.
The love story in this was amazing, giving a

light summery

feel without being cheesy or overly cute. It was believable, and had two characters that you were really rooting for from start to finish.
I highly recommend this book. It was a fantastic read, and one I will be going back to in the future.
Rating
10/10