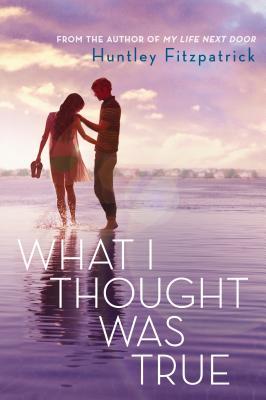 Gwen Castle has never so badly wanted to say good-bye to her island home till now: the summer her Biggest Mistake Ever, Cassidy Somers, takes a job there as the local yard boy. He's a rich kid from across the bridge in Stony Bay, and she hails from a family of fishermen and housecleaners who keep the island's summer people happy. Gwen worries a life of cleaning houses will be her fate too, but just when it looks like she'll never escape her past—or the island—Gwen's dad gives her some shocking advice. Sparks fly and secret histories unspool as Gwen spends a gorgeous, restless summer struggling to resolve what she thought was true—about the place she lives, the people she loves, and even herself—with what really is.
After reading My Life Next Door by this author, I was excited to read this book. I loved My Life Next Door, and the description of this book sounded like it would be my kind of thing. I'd heard it likened to Sarah Dessen books, and for me that's always going to make me pick up a book.
By halfway through, I knew that I wasn't loving it as much as the previous book I'd read by this author, but that's not saying I didn't like it. I did like this book, but there were moments when I found Gwen to be a little annoying, and where I found the story to be a little slow.
This was a good, light, summer read that I did enjoy. It's not one of my favourites, but it was a quick read and one that I'm glad I read.