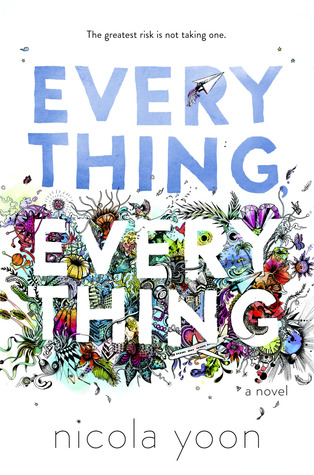 My disease is as rare as it is famous. Basically, I'm allergic to the world. I don't leave my house, have not left my house in seventeen years. The only people I ever see are my mom and my nurse, Carla.
But then one day, a moving truck arrives next door. I look out my window, and I see him. He's tall, lean and wearing all black—black T-shirt, black jeans, black sneakers, and a black knit cap that covers his hair completely. He catches me looking and stares at me. I stare right back. His name is Olly.
Maybe we can't predict the future, but we can predict some things. For example, I am certainly going to fall in love with Olly. It's almost certainly going to be a disaster.
Where to begin in a review for a book which I loved so much about? It's tough, because this book hit the mark on so many things I love in YA fiction. It was emotionally charged, it had amazing characters, a well written plot, it dealt with tough subjects and had a medical focus which is something I like in books, and on top of that, it had a truly wonderful love story. Oh, and did I mention that it was written in an interesting narrative style? No, well it was, which just so happens to be another thing I love.
From page one I was hooked, and I didn't want to put this book down. Very quickly I was pulled into this world, and I didn't want to let go. This book had me on the edge of my seat so many times, on the brink of tears as well. It was a stunning book, with moments that I truly did not see coming, which is refreshing.
One of my favourite books I've read, this is the kind of book that did not disappoint at all. From start to end, I loved it.
As you can probably guess, I would definitely highly recommend that you read this book. It was, simply put, incredible.