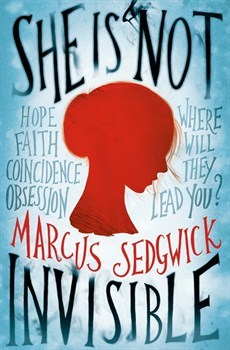 The feeling that coincidences give us tells us they mean something... But what? What do they mean?
LAURETH PEAK'S father has taught her to look for recurring events, patterns, and numbers - a skill at which she's remarkably talented. When he goes missing while researching coincidence for a new book, Laureth and her younger brother fly from London to New York and must unravel a series of cryptic messages to find him. The complication: Laureth is blind. Reliant on her other senses and on her brother to survive, Laureth finds that rescuing her father will take all her skill at spotting the extraordinary, and sometimes dangerous, connections in a world full of darkness.
From acclaimed storyteller Marcus Sedgwick,
She Is Not Invisible
is a gripping contemporary thriller threaded with unsettling coincidence and a vivid and convincing portrayal of a young woman living without sight.
What I found most striking about this book, was the smart, thoughtful and almost vulnerable narrative. Laureth is a girl who wants to be independant, and find the answers about her father, without needing to rely on getting information from her mother, who seems less than concerned about Laureth's father going missing.
However, in order to actually get the answers she needs, she can't be entirely independent. Because she's blind, she has to take her younger brother with her, as she flies from London to New York.
The two of them make a great team, and I really liked the relationship between the two of them.
The story itself was very interesting as well. As they learn more and more, things begin to get more and more confusing.
Along the way, as the two of them follow the clues, they meet a host of interesting characters and even get themselves into a little trouble.
Overall I found this book very enjoyable.