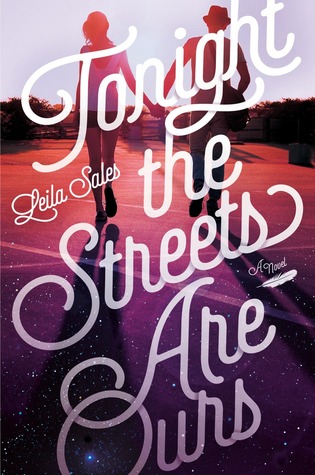 That's how seventeen-year-old Arden Huntley has always thought of herself. Caring for her loved ones is what gives Arden purpose in her life and makes her feel like she matters. But lately she's grown resentful of everyone—including her needy best friend and her absent mom—taking her loyalty for granted.
Then Arden stumbles upon a website called Tonight the Streets Are Ours, the musings of a young New York City writer named Peter, who gives voice to feelings that Arden has never known how to express. He seems to get her in a way that no one else does, and he hasn't even met her.
Until Arden sets out on a road trip to find him.
During one crazy night out in New York City filled with parties, dancing, and music—the type of night when anything can happen, and nearly everything does—Arden discovers that Peter isn't exactly who she thought he was. And maybe she isn't exactly who she thought she was, either.
Review
I loved the concept of this book. As soon as I read the synopsis, I just knew that it was going to be one of the books that I'd have to read this year. Add that into the fact that it's written by an author, that I'd already read and enjoyed another book from, and I was fairly sure that this book would be a winner for me. I wasn't wrong.
Tonight The Streets Are Ours, has a wonderful storyline, unlike anything I've read before. I thought the attachment that Arden felt to Peter, without having ever met Peter, has a lot of reality in it. It shows how people do become attached to certain unknown people, writers, singers, actors etc. People they've never met, and yet feel a link with them. This idea was played out really nicely in this story, as Arden gets more and more lost in Peter's words.
Move on from this, to a road trip with her best friend, which is something I love to see in books. Then onto a crazy night, filled with interesting people, and unexpected results.
As far as characters go, I loved Arden. I liked seeing the slightly crumbling relationship with her best friend, and the budding one with Peter. I thought that the supporting characters were all very well written as well.
The only thing that I was hesitant on, was the ending. I couldn't decide what I thought of it, but I know it left me wanting something a little more.
So, overall I really enjoyed this book, and I would definitely recommend it.
Rating
8.5/10