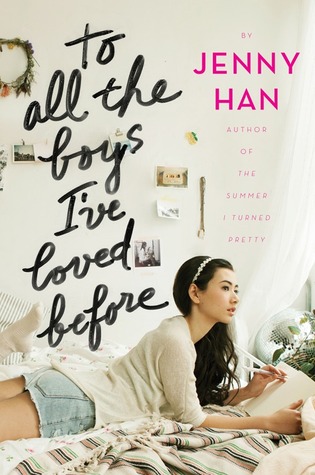 To All the Boys I

've Loved

Before is the story of Lara Jean, who has never openly admitted her crushes, but instead wrote each boy a letter about how she felt, sealed it, and hid it in a box under her bed. But one day Lara Jean discovers that somehow her secret box of letters has been mailed, causing all her

crushes

from her past to confront her about the letters: her first kiss, the boy from summer camp, even her sister's ex-boyfriend, Josh. As she learns to deal with her past

loves

face to face, Lara Jean discovers that something good may come out of these letters after all.
I'll admit, this book has been one of my most eagerly awaited books of the year. When I first read the synopsis I was incredibly excited to get my hands on a copy, and when I did, I started reading it almost right away. It's just taken me a while to actually get this review written (editing a novel takes up a lot of time!).
It's safe to say that all of my eager anticipation of this book, was well rewarded. I absolutely loved it!
There wasn't one thing in this book that I didn't like. I didn't have any moments of boredom, or of thinking that part was slow or not needed or needed to be extended. When I started thinking about my view, I was trying to think of things I could

nit pick

for to find some faults, but honestly, I enjoyed every aspect of the book.
Lara Jean makes a really interesting main character. I liked the backstory behind their family dynamic, and how the girls all band together and look out for one another, this dynamic served to heighten the romance section of the book.
I also loved the romance in this book. It was played out so perfectly. Not rushed or dragged out, but just enough of it to keep me going.
This is the kind of book that would be easy to read again and again, because simply put, it was fantastic.
The pacing, plot, characters, writing style, narration, everything was enjoyable and when I got to the end of it, I felt like I wanted the next book right now!
I would definitely recommend this book. It's one of my favorites of the year so far.
Rating
10/10