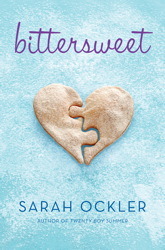 Once upon a time, Hudson knew exactly what her future looked like. Then a betrayal changed her life, and knocked her dreams to the ground. Now she's a girl who doesn't believe in second chances...

a

girl who stays under the radar by baking cupcakes at her mom's diner and obsessing over what might have been.
So when things start looking up and she has another shot at her dreams, Hudson is equal parts hopeful and terrified. Of course, this is also the moment a cute, sweet guy walks into her life...

and

starts serving up some seriously mixed signals. She's got a lot on her plate, and for a girl who's been burned before, risking it all is easier said than done.
It's time for Hudson to ask herself what she really wants, and how much she's willing to sacrifice to get it. Because in a place where opportunities are fleeting, she knows this chance may very well be her last...
I've been a fan of Sarah Ockler's work for a while, and so when I saw this one on Audible, I knew that I had to pick it up. I'm really pleased that I did, because Bittersweet was a great book.
I really liked the storyline and the balancing of romance, family stuff, and her skating. I felt like the balance was done really well.
I loved all the supporting characters. They were well rounded, and interesting. The one character I didn't love was actually Hudson. At times I found her just a little bit annoying, which was a shame, because otherwise I love everyone.
I really loved how each chapter started with a new cupcake recipe. That was a really nice touch
The progression of the story was really good as well. I felt like the pacing was spot on and I really liked the way the events played out.
This was above all else a really light hearted book, with a few moments of drama thrown in to keep it interesting.
I really enjoyed it and I'm really pleased that I picked it up. I would definitely recommend this book, especially if you like authors like Sarah Dessen and Jennifer E. Smith.